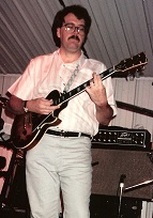 My long-time close friend and in our youth my musical compatriot, Charles Kent Stembel of
Fowler, Indiana
, passed away in May 2010, at age 56.
A graduate of Benton Central High School, Kent attended Purdue University School of Pharmacy in the mid-1970s. After graduating from Purdue, he managed a Revco Drug Store and early in the 1980s he was promoted to a district supervisor overseeing the operation of more than 25 drug stores in southern Indiana and western Kentucky. His lifelong dream was to own a drug store.

In 1989 Kent returned to his roots to serve the community where he was born and raised after his purchase of Denny's Pharmacies in Goodland, Fowler, and Otterbein. He married Shari Spence and the proudest event of his life was the birth of their son, Joe, in 1997.

Kent closed the Goodland store several years before his death and sadly, the Otterbein pharmacy burned to the ground in 2007 as the result of a tradesman's accident. To honor Kent after his passing, his wife renamed the remaining pharmacy at 500 S. Grant St. in Fowler, Stembel Pharmacy.
In 2016, the pharmacy was sold and renamed, Glotzbach Pharmacy.

An accomplished guitarist, Kent began to play at the age of fourteen as the lead guitarist in the local rock band led by Gary Ward, The Fourmost Five, which evolved to become The Elements of Time. In later years, he played in numerous bands including the re-established version ofThe Elements of Time as well as Thistle House, Illicit Affair, and the Life Teen Band for the Sacred Heart Catholic Church in Fowler.

I got to know Kent when I was taking piano lessons from the late Glenora Hunter across the street from King Stembel's Swing Shop music store in Fowler. King, Kent's father, had opened the music store because of his love of music and I believe to give Kent ability and experience in business. The Swing Shop was just off 5th Street on the east side of Madison Street. The south half of the building housed the State of Indiana License Branch where Kent's mother, Maxine, worked. King, was the editor of the Benton Review newspaper (Est. 1875) although whenever he could, he "moonlighted" as a drummer in a swing band.

Late in the summer before Kent was about to be a freshman at Fowler High School (built in 1926 and demolished 2009) he worked as a soda jerk at Burkholder's Pharmacy in Fowler. He was really afraid the older kids would ambush him as he left the pharmacy to initiate him into high school. The general routine was to either leave male freshman isolated in the country without transportation and/or shave their heads. One night the upperclassmen caught Kent and I believe they only shaved his head. It was not attractive.

When I was 14½ years old I auditioned for then joined the then recently renamed rock band The Elements of Time. Kenneth (Rube) Abbott was the manager, publicist, chauffeur, chaperone and "protector. Kent Stembel was lead guitarist (I/we loved to good-naturedly compare him to and call him "Jimi" as in the rock musician Jimi Hendrix), Bob Ponto was rhythm guitarist and back-up vocalist, Richard (Dick or Rich) Goodman was lead vocalist and later began playing the bass, and Eldon Hardebeck was drummer and vocalist. I replaced Tom Graham on the organ (keyboard), who quit and that's how I got the audition. Regardless, I think they let me join because they did not audition anyone else and as Kent once told me, he wanted me anyway. Sheet music was not used and we played by ear which meant I had to quickly learn/make-up the organ parts of the songs.

Rube and his wife, the late Pauline (Freeland) Abbott, had two small girls (Dee & Vickie), but amazingly they allowed the band to practice first in their basement, then in their garage. Eventually, we practiced in the motorcycle shop Rube owned at S. Grant Avenue and 7th Street in Fowler in a building that later became a Sunoco gas station and convenience store.

We performed at what were still billed as "sock hops" and soon just called dances. The band played after-prom dances and dances after football and basketball games for Benton Central Jr/Sr High School, Rensselaer, South Newton High School and we even played for Fowler Pool Parties. We also were playing numerous wedding dances in Fowler at the American Legion Post 57 at 400 E. 5th St. (at S. Van Buren Ave.) and less formal affairs in the VFW at the northwest edge of town on the southwest corner of Taylor Ave. at 1st St. where the Cub Scouts and Boy Scouts also would hold their meetings. One year, we played an Earl Park Community dance in the basement of the Earl Park Cathedral which a local radio station even broadcasted. The church was demolished in 1994.

Wedding dances were lucrative: we would play for an hour as contracted then, when the attendees were well into having a "good time," we'd pass the hat -- Dick would often commandeer my tambourine for this purpose -- and we'd usually play only another 45 minutes to an hour but, those few minutes were quite profitable!

Soon, The Elements of Time ventured into performing at the bars in Watseka, Illinois. I think the first one was what turned out to be our most consistent gig: Bud and Swede's Big Top Ballroom located one mile east of town on Route 24. It was an all steel Quonset Building that could hold 1,000 people. I believe the building burned to the ground in the late 1970s or early 1980s.

We also played at the Crazy Corner and other & "infamous" bars in Watseka i.e. a little rowdy. In Fowler, we played at the Uptown Bar and a couple of other places. We even played at the one bar at 102 S. Oak St. in Earl Park, Indiana. Once, we played in Rushville, Indiana, but that foray ended our desire to travel over 30 miles for gigs.

The musician's union (it may have been the American Federation of Musicians) in the Chicago area pressured the band because we were not a Union band. We avoided joining probably because of Rube and the fact that the bars where we played only rarely hired bands from Chicago. The Union backed off.

Playing at Bud and Swede's and the Crazy Corner, Kent quickly realized and made certain we all understood that fights would occur more often than anyone might think. Generally, these fights were 2 to 4 people and to keep these from growing into a full blown melee, we would not stop playing (i.e. take a planned break) but would increase the volume and definitely play a boisterous/loud song to keep the bar full of people from realizing there was a fight going on! Thankfully, this tactic always worked at mitigating the spread of a fight.

Once, when performing at Bud and Swede's, Kent was so sick that it was left up to Rich, Eldon, Bob and me to play without Kent. Half-way through the first set we realized we sounded terrible and made our manager, Rube, drive back to Fowler to drag Kent out of his sick bed and bring him to Bud and Swede's. Somehow Rube was probably able to get Kent out of the house because Kent's mother (Maxine) was not home! I don't know where King was. We seated him in a folding chair the rest of the night and as sick as he was, we then sounded great. Kent was that important to the sound and success of the band: without him we were nothing.

Bud and Swede's could hold at least a thousand people and we normally packed the place on Friday and Saturday nights. One weekend night, we were the back-up band for a band from Chicago, The Ides of March (of "I'm Your Vehicle Baby fame) who didn't give a very impressive performance. We played after their performance and the crowd really loved us and enthusiastically danced on a very crowded dance floor. During a break, Rube got to the microphone and asked the crowd to show by their applause which band they wanted to hear play the following weekend. Their applause wasn't very passionate for The Ides of March. Then Rube asked the crowd if they wouldn't rather hear The Elements of Time the next weekend. The crowd burst into loud enthusiastic cheers, hollering and applause! It was obvious to the owner (Ray) that we were his patrons' choice!

We played there the next weekend and from then on for years, we were the house band. Most significantly, we performed there along with others such as Wayne Cochran and the CC Riders and Fats Domino. In fact, Fats had to use my microphone and our sound system because he never brought these with him.

For a time during high school I worked at the A&H Department Store in downtown Fowler on 5th Street at N. Adams Avenue. (It later became Kidwell's Restaurant, but is now empty.) After work on Friday nights Kent would pick me up from the store and we'd head to Watseka to play at one of the bars. Kent had a maroon 1964 (maybe 1965) Ford Mustang that he had remounted the driver's seat to be "pushed back" farther so he (being a big guy) could safely sit in the car to drive it. Sometimes, he would take Eldon and/or Dick with us, too. That WAS incredibly uncomfortable for everyone -- except Kent.

After playing into the early morning, we often stopped at a truck stop off Highway 41 in Kentland, Indiana, for breakfast -- which meant we didn't get home until 4:30 in the morning. The next night, Kent would again pick me up from the A&H after work to do the same thing we did the night before. It was pretty grueling: in fact, I ended up with mononucleosis and although Gretchen Zuege tried playing the organ in my place for the band, she didn't last. Unfortunately, several people did get gamma globulin shots as a precaution. But I digress.

In 1971, for the Town of Fowler's Centennial celebration on the 4th of July, the Elements of Time participated in the parade down 5th Street with Rube's restored purple panel truck (I think it was a GMC or Chevy) that he used to haul the band's equipment. That evening the band also played at a dance in the shelter at the Town Park. Of note is that information and pictures about us was placed in a time capsule buried in the front lawn of the County Courthouse near the curve of 5th Street. If it is not forgotten on the 150th (sesquicentennial) anniversary of the Town's founding, the capsule is to be opened, inspected then reburied for another 50 years.

After 1973 the band began to play less and less and eventually had just stopped performing. Being a sentimental bunch of guys, in August of 1985, Kent, Rich, Eldon, Bob and I got back together for one night at the Fowler Country Club -- now the Benton County Country Club. We hadn't played together for years and we practiced at Eldon's farm in his barn just once the night before the event. After practicing we were pretty concerned, somewhat fearful and discouraged: we didn't sound very good.

Amazingly, one small sign on the main door at the Country Club was the only advertising of our performance. Still, on the night of our performance, when Rube took the microphone and introduced ". . . from Denver, Colorado, Kirk Williams!" the place erupted in frenzied cheers. I felt like I'd been conferred with rock star status! The same was true after introducing the other 4. It didn't matter how good or bad we were: the place was packed because we were part of the lives of so many people who "grew-up" dancing to The Elements of Time. A few in the crowd even came from out-of-state. All of us were pumped up.

In 1987 Bob declined, but Kent, Rich, Eldon and I performed again for a Fowler 4th of July Street Dance on a 48' long flatbed trailer in front of the now long gone Korbe Jewelers on the northeast corner of E. 5th St. at S. Adams Ave. Within a year, Rich, Eldon and Kent restarted the band adding some new members including the late Jim Gardner on keyboards, but that's another story . . .
---